Topping out buildings is a momentous occasion for any construction company: the culmination of a project done well. Of note, Spec Training Video captured topping out progress photography at Diega. Specifically, Bosa contracted our team of drone pilot specialists to capture aerial photography of their San Diego project. Of note, our media team curated customized drone photographs to showcase the work completed.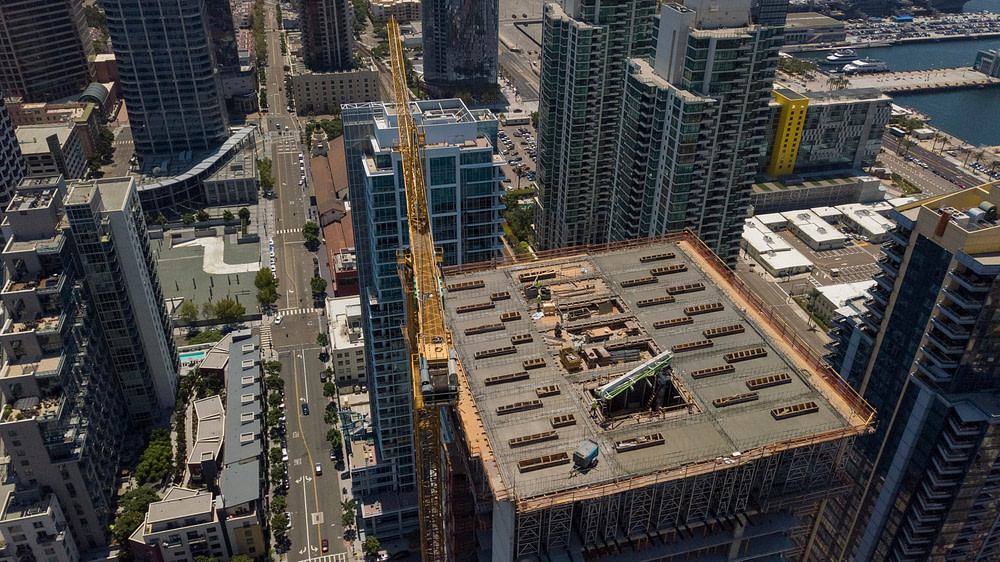 Prime San Diego Location
In particular, this project boasted a prime downtown San Diego location in the heart of the city. Further, the central location included other high rises near this build. However, our team of certified drone pilots maneuvered the drone with ease. Of note, we designed a unique flight path to capture the topping out progress via drone photographs.
Scope of Progress Photography
The scope of work for this project included several key drone images. Specifically, the aerial images taken by our media specialists encompassed close ups of the topping out in progress. Further, some of the drone photographs our seasoned photographers captured incorporated views of the downtown skyline. Of course, our topping out progress photography had high resolution and showcased the momentous occasion.
Drone Photography Highlights:
aerial views of the topping out
close up images of topping out progress
construction work close up photographs
sweeping views of the topping out against backdrop of downtown skyline
Advantages of Progress Photography
Progress photography offers our clients several key advantages. First, progress photography documents the work completed. Of note, some of our clients' contract specifications require such progress documentation. To date, our progress photography has been accepted as meeting the standards of our clients' contract, giving our clients peace of mind. Further, progress photography of topping out captures the momentous occasion and culmination of the hard work completed. In sum, our team has extensive experience capturing topping out progress photography for a variety of projects.