Owner required spec training video is usually made for new operations and maintenance staff. A rep from the company that installed the equipment gives a demo.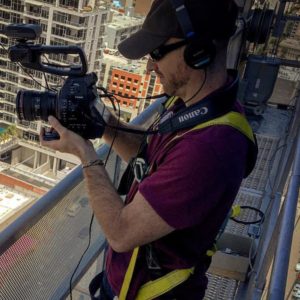 Using training videos along with O&M manuals, operations and maintenance staff learn where things are located on site and how to operate and maintain the equipment. These videos are supplemental education to standard O&M binders, instruction manuals, and handouts that are provided during closeout.
Training is more and more often required to be video taped and delivered under professional standards due to amateur quality recordings utilized by contractors who try to save money. Holding an iPhone or tablet to record O&M training doesn't work very well due to noise considerations and shaky handheld effects.
The benefits of having a training video library include:
Consistency in training videos
Video can be more engaging than paper manuals
Engineers can play the videos during down-time for refreshers
New hires don't have to take up paid time with as much personal training
It costs a whole lot more to hire a trainer every time you hire a new engineer
Because the systems are mostly custom-tailored to their buildings, you'd likely need the same company that installed the system to bring out the trainer. Maybe the company isn't available or out of business. You don't want the building owner to deal with that kind of hang-up.  So the videos are used to archive the original training.
You can't have someone on your staff holding up an iPhone during training and call that professional training video:
Long-form recording required
Clean audio required, especially in loud rooms like your generator or boiler room
Steady video with relevant, in-focus imagery in the frame
Integrity around your professional image
Building owners will reject amateur cell-phone or tablet video and you will have to pay twice for your trainer to show up again. You'll also have to pay a second round of training time for any staff who need to be there to ask relevant questions for the video.
The general contractor is required to hire all the vendors, including the professional videographer for filming, before the building is turned over to the owner.
We work with general contractors, electrical, datacom, etc. who are already in progress on a building and haven't dealt with finding a videographer yet.
It's beneficial to have your estimators work with us ahead of the project, so the PM has our contact information and can schedule commissioning with training video production accounted for.
There are also liability benefits to employers for having these videos be consistent and high-quality.